Multi camera setup with 12x USB3 cameras¶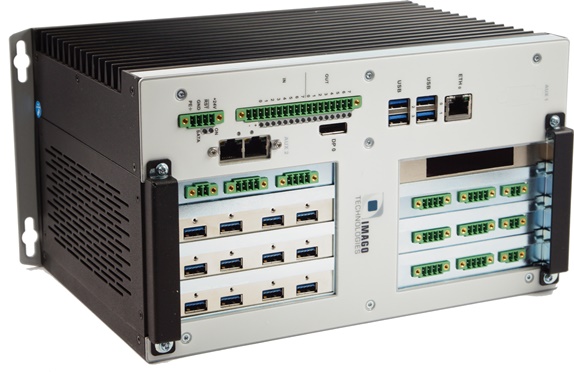 Embedded Industrial Vision & Automation Computer¶
The VisionBox AGE-X SERVAL+ was invented for those customers who want to purchase an individually configured and 100% tested vision & automation computer.
Therefore, IMAGO offers a configuration composed by IMAGO's Real-Time Controller (RTCC) peripherals for up to 12 USB3 cameras & 8 LED light heads.
IMAGO provides the outbound test and organizes the long-term delivery of the series product.
Optional: timing reports, which show the behavior of e.g. camera trigger, LED control and I/O.
Key Features¶
LED Controllers with Camera Triggers
Digital In/Out with opto-isolators
Optional RS-422 for encoders
USB 3.0 interface boards for cameras
Computing power from i5 to i7
Windows 10 IoT Ent. / Windows Embedded 7
Embedded system / heat sink design
Long-term availability
Interfaces of configuration for 12 USB3 cameras¶
Ethernet: 3 × 1.000 Mbit/s
Real-Time Communication Controller: 1 × with status display
Digital I/O: 8 × Input / 8 × Output, opto-isolated, 24V
Camera Trigger: 8 channels
LED Controller: 8 × current-controlled
Encoder Interface RS-422 option: Up to 8 × Input, up to 6 × Output
Real-Time Fieldbus option: Hilscher CIFX 90E-xx\ET\F
MiniPCIe Slot / AUX Port options: x1 / x2
PCIe Slots: 1 × x8, 2 × x4, 4 × x1, 1 × bracket
Installed PCIe Boards: 3 boards with totally 12 × FL 1100 USB3, RTCC & 3 × LED, LED
Processors¶
| | | |
| --- | --- | --- |
| | Intel i5 | Intel i7 |
| Other types on demand | 6440EQ | 6820EQ |
| Frequency | 2.7 GHz | 2.8 GHz |
| (turbo Mode) | (3.4 GHz) | (3.5 GHz) |
| Cores / Threads | 4 / 4 | 4 / 8 |
| DDR4 RAM | 2 × (4 – 16) GB | 2 × (4 – 16) GB |
| Intel Smart Cache | 6 MB | 8 MB |
| Intel 64 / Hyper-Threading | yes / no | yes / yes |
| Mass Storage | 1 - 2 × SSD | 1 - 2 × SSD |
| USB 3.0 controller | 13 | 13 |
| USB 3.0 ports | 16 | 16 |
| DisplayPort 1.1, 60 Hz | 2560 × 1600 | 2560 × 1600 |
Mechanical/Electrical¶
Power Supply: 18 VDC – 30 VDC
Power Consumption: Up to 75 W, depending on camera and illumination configuration
Thermal Solution: Heat sink
Temperature Range: Depending on camera and illumination configuration
Weight: from approx. 4500 g
Dimensions: 263 mm × 192 mm × 150 mm (W × D × H)
Mounting Support: 4 × M5