XIMEA presented exciting new technologies and products at VISION 2016 in Stuttgart
A look back at Vision 2016
All of us with the XIMEA team would like to sincerely thank all the visitors that stopped by our booth. Congratulations to all the happy Apple Watch 2 winners!
After two years of continuous development embracing new approaches, XIMEA demonstrated several truly innovative products and technologies at VISION 2016.
Below is the assembly of our existing product lines that was expanded and new models that were introduced into well known product families:
Discussions during the show with customers and prospects revealed that the level of knowledge and extent of readiness to utilize the Machine Vision is ever-growing.
This allows high quality feedback with many insights into the current and future developments. XIMEA is looking forward to learning more about newest applications.
XIMEA has many options for system integrators who are space or weight restricted. Our website presents the 'standard' models that are available from stock or on a relatively short term basis.
However, if you need special sensor, connector, form factor, speed - please do not hesitate to ask our team. With some of the models, it is also important to notice the availability.
| | | |
| --- | --- | --- |
| | Infographic explaining xiX models | This e-mail address is being protected from spambots. You need JavaScript enabled to view it |
Special attention deserve the camera families using PCI Express interface - xiB and xiB-64. The ultra-fast camera models are able to harness the unique speed of PCIe protocol and move imaging data rapidly to the final destination, all without the need in a proprietary framegrabber.
These remarkable benefits were further showcased in a concept called xiSWITCH that allows AGREGGATION of many different camera models and interfaces into a single pipeline for simplicity of integration.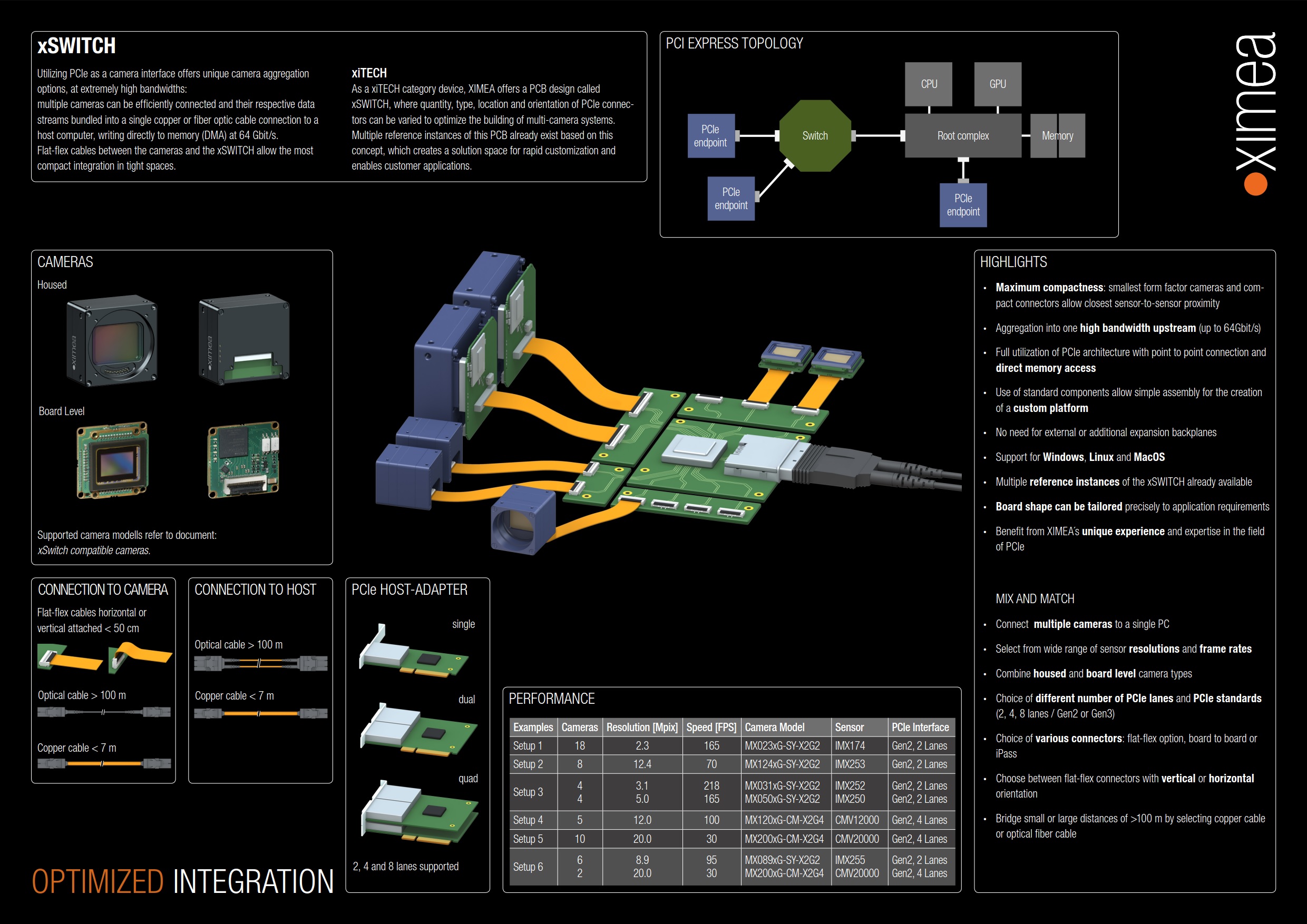 Infographic explaining xiSWITCH
xiSWITCH - a fully customizable PCIe camera hub to which you can connect multiple cameras with various interfaces where their respective data streams are then bundled into a single PCIe cable leading to host computer.
PCI Express Gen3 overview - a standard interface that is fully compliant with PCI Express External Cabling Specifications, that allows 64 Gbit/s speed and real data throughput of 7000 MB/s.
Booth interview by Vision Systems Design magazine
Presentation about Virtual Reality and XIMEA embedded vision solutions