World's most compact, fiber optics coupled, cooled, 16 and 11 megapixels X-RAY cameras
Based on Truesense KAI-11002 and KAI-16000 sensors.
Resolution 11 Megapixels and 16 Megapixels.
Featuring XIMEA proprietary CLEANPATH technology.
Cameras are delivering crystal clear 14bit images.
Imaging area is 36 x 24 mm.
Refresh rate in full resolution mode is 3.6 frames per second, and in 4x4 binning it is 12 frames per second.
Exposure time from 12μs to 500sec.
Camera body measures only 63 x 63 x 39.2mm.
Inspired? What's Next?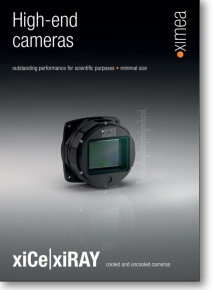 This e-mail address is being protected from spambots. You need JavaScript enabled to view it