GPU enhanced smart camera FAQ¶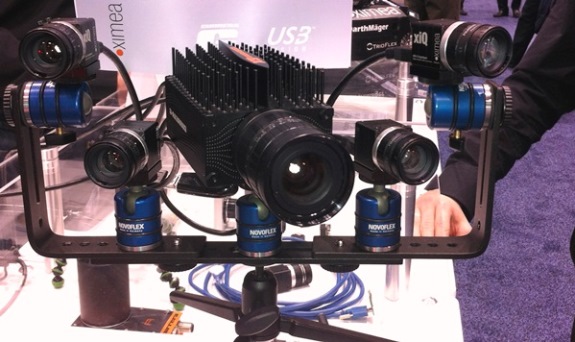 Benefits¶
System Integrators started to be more interested in small, robust, embedded, efficient vision systems that can be easily installed and managed.
Worldwide volume supplied has increased by around 30% in the years after their introduction.
Smart cameras are rugged, dependable, all-in-one vision systems that can incorporate lenses, image sensors, system storage
and processors into a compact device which is essentially replacing the combination of cameras and computer.
Comparison graph¶
| | | | |
| --- | --- | --- | --- |
| Factor | x86 Smart Camera | Smart Camera | PC + Camera |
| Size | Small | Small | Big |
| Performance | Higher | Good | Highest |
| Reliability | Higher | Highest | Good |
| Multiple cameras | Possible | No | Possible |
| Software | Best | None | Camera dependable |
| Development | Easy | Easiest | Good |
| Customization | Better | Low | Highest |
GPU factor¶
GPU driver is capable to manage the media processing tasks instead of CPU thus increasing graphic processing performance by around 3 times.
Utilizing integrated Intel® 7th Generation HD Graphics technology it processes compression, video encoding, doing it via multiple channels simultaneously.
This assists with storing, recording and even analyzing media data.
FPGA part¶
This small, but vital component included in new smart cameras considerably increases image processing efficiency
by taking care of image matrix operations and offloading the CPU resources for advanced algorithmic operations.
The FPGA takes care of pre-processing tasks like ROI, LUT or shading
correction and others.
Software role¶
This is a critical factor, mostly determining the whole functionality of the application. Compatibility with other platforms and features can be a hard tackle for most of the System integrators and this concerns support as well.
Integration¶
Conventional smart cameras have very restricted computing power and are mostly one-trick ponies, utilized often in simple individual applications dealing with gauging, barcode scanning, etc. and omitting the ones where complexity is required.
GPU enhancement allows low power consumption, while still enabling multitasking which reduces the number of cameras needed.
Sensor component¶
You have the choice of CCD and CMOS as well as Rolling shutter and global shutter which have different systems of how to gather light into their pixels.
Rolling shutters go in consecutive rows, where every row starts and finishes slightly differently from each other.
Global shutter starts and ends in exactly the same period of time.
Most smart cameras, due to their limits in the ability to process large
amounts of data, usually have rolling shutter sensors or small sized sensors.
This affects the possibility to deal with objects that move fast and therefore leave blur or skew in high-speed
industrial applications.
Here again, GPU enhancement helps to support global shutter sensor models in the small smart camera.
Applications¶
The production line in factories tends to include different applications like machining, packaging, inspection, pick and place, etc.
These are done by different machines and using robotic arms, conveyors to move or align the components, being helped by industrial
cameras.
Add there flaw inspection, packaging and communication between all of those systems becomes a big challenge for ordinary smart factories.
Capacity element¶
This often neglected part can ultimately decide whether the vision system is able to sustain a full PC Operating System and what 3rd party Libraries can be used.
The more obvious factor is the volume of images that can be stored for analysis.
HDMI connector¶
It is very rare to find a standard camera offering such interface because smart cameras usually transmit data using Ethernet.
The benefit of having such an option is the connection of HMI or a screen that helps operators to view inspection results and discover the possible problems sooner.
Cost section¶
What is mostly forgotten about is that the Total cost of ownership (TCO) is not only about the list price of the system itself, but rather a combination of scale-ability, space usage, software development, integration, efficiency, etc.