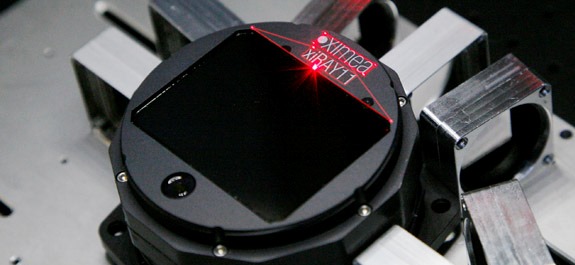 In succession to our first line of Firewire cameras, XIMEA has soon started designing and producing various camera families based on the most interesting of the emerging technologies.
Many of the now standard camera models initially started as Custom or OEM Cameras developed for special pilot customers and their requirements.
This tradition continues into present days - XIMEA welcomes new challenges originating from your feedback.
The following can be adjusted to clients specific product needs:

Choice of interfaces: Firewire, USB 2.0, USB3 or PCI Express, Thunderbolt
Enclosure options: housed or board level
Various versions: TE Peltier Cooled or NIR - Near Infrared enhanced
Generic fields: Hyperspectral imaging or X-Ray scanning
Connector position: straight or angled - we can adapt to your wishes

To inquire about options please use info@ximea.com

A variety of applications and their demands on one side, and the strive to reduce initial price and maintenance cost on the other, motivate XIMEA to offer a wide spectrum of digital cameras for industrial machine vision and scientific imaging systems.
Unique features of XIMEA generic and OEM cameras are extremely small size, fastest speed, customization and compatibility with a plethora of image processing libraries and frameworks.
---
---
Here are some of the older and newer popular examples:¶
Embedded vision - Ideal for multi camera setups and stand alone autonomous systems
X-RAY - Compact X-RAY cameras with 11 and 16 Mpix resolutions. Peltier Cooled
sCMOS - Highly sensitive scientific CMOS models with Cooling for lowest noise
Hyperspectral - Smallest Hyperspectral cameras based on USB 3.0 interface with Start Kits
High speed and resolution - PCIe cameras able to stream at 20 Gbits or up to 64 Gbits
Sony CCD + USB 3.0 - Scientific grade USB3 cameras with ICX674, ICX694, ICX814, ICX834
18 Mpix subminiature - Smallest 18 Mpix industrial camera with USB3 for 20+ Fps
MR4021 - Scientific grade firewire camera with KAI-4021 sensor
MR11002 - Scientific grade firewire camera with KAI-11002 sensor
MR16000 - Scientific grade firewire camera with KAI-16000 sensor
Sony CCD - Scientific grade firewire cameras with ICX285, ICX274, ICX252, ICX282, ICX655