Industry 4.0¶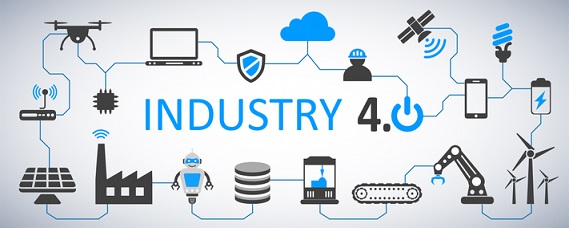 Industry 4.0 How to create the factory of the future using machine vision, image processing and multi camera setups¶
Industry 4.0 or the fourth industrial revolution is synonymous with smart factories.
Within smart factories, cyber-physical systems equipped with embedded vision and image processing software are used to create a virtual copy of the physical world by monitoring physical processes and learning how to make decentralized decisions.
High Performance Image Processing for Industry 4.0¶
Our world is in the process of significant transformation regarding the way how we manufacture the products thanks to the digitization and automation of the assembly process.
The intensity of this transition was so compelling that it got a new term, Industry 4.0 to represent the fourth revolution that has occurred in the industrial field.
• The first industrial revolution - mechanization with water and steam power
• The second - mass production and assembly lines using electricity
• The third - computers and automation
• The fourth (Industry 4.0) - smart autonomous systems fueled by data and machine learning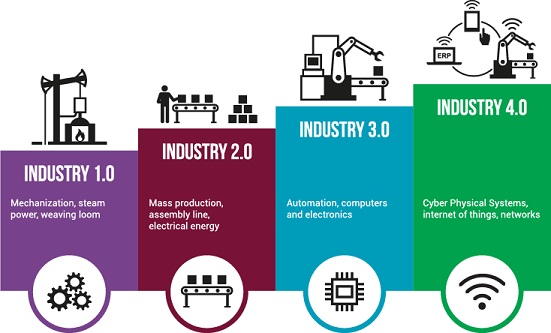 Image Processing¶
Imaging applications play an increasingly important role in Industry 4.0 ecosystem:
• autonomous robots, self-driving cars and drones
• augmented reality
• artificial intelligence systems, big data and analytics
• multiple camera setups and Embedded vision
Vision cameras serve as eyes for many modern industrial applications and with the further progress of neural networks and deep learning, the performance of machine vision systems will eventually overcome routine human abilities.
In a new era, embedded cameras/sensors will see more and faster than humans, while working non stop at the same high precision level.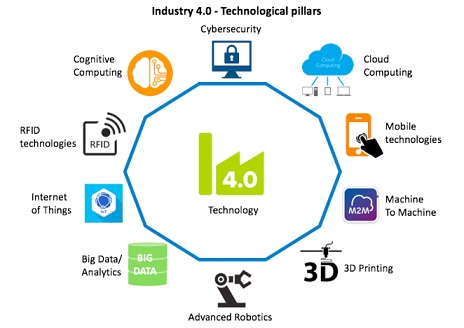 Current progress in this field, called Machine Vision is based on new achievements in such fields like: imaging sensors, electronics, interfaces, illumination, lenses, software and hardware.
The extensive boost in all of the mentioned directions results in such examples as realtime processing of 8K video which was unattainable just a few years ago.
Besides the high resolution and high transfer speed, GPU-based image processing can significantly improve both performance effectivity and image quality in industrial vision applications and vision libraries.
This important step towards high speed and low latency analysis can be further boosted by AI software which could run on the same GPU.
Newest GPUs have hardware-based cores for AI applications that allow to build the whole pipeline on GPU and accomplish the full task in realtime, starting from RAW data acquisition to final AI task.
Success in today's Industry-4.0 market requires a unique combination of hardware, software and AI based solutions working together reliably.


(Image courtesy: www.eltec.de)
XIMEA embedded cameras and multi camera setups for
VR, autonomous robots, cars and UAVs¶
Many companies from different fields of Industry experience an increasing demand for high performance imaging applications.
To address this requirement, XIMEA high bandwidth embedded or multi camera systems can be coupled with GPU-based comprehensive image processing SDK developed by Fastvideo company.
This widely utilized software can perform a RAW image transformation to RGB remarkably fast on GPU.
Any camera based application has to convert RAW to RGB, apart from all other important functions which could include:
objects recognition and classification, feature extraction or any other task for neural networks and AI.
This kind of features and solutions are mainly useful for developers, not for end users.
Among usual customers, there are system integrators, startups, university spinoffs, new departments in well-known companies from various industries.
With GPU-based image processing solutions being a constituent part of imaging applications and vision libraries, the low latency and high efficiency in performance can always help to advance your system.
Credentials
Fastvideo Blog:
https://www.fastcompression.com/blog/industry-4-0-image-processing.htm