NVIDIA Jetson AGX Xavier Benchmarks¶

Fig.1. Jetson AGX Xavier Developer Kit
With the help of NVIDIA Jetson AGX Xavier developer kit, many customers already are developing and deploying end-to-end AI robotics and edge applications in the fields of aerial inspection, city mapping and more.
The AGX Xavier is supported by NVIDIA JetPack and DeepStream SDKs, as well as CUDA®, cuDNN, and TensorRT software libraries.
The power of the new NVIDIA Xavier processor offers more than 20X the performance and 10X the energy efficiency of its predecessor, the NVIDIA Jetson TX2.
The dev kit provides the tools needed to get started right away and XIMEA team tested various cameras with the results listed below.
AGX Xavier in multiple camera setup with 3 cameras¶
Hardware components:
Jetson AGX Xavier Developer Kit
2x MC031CG-SY XIMEA camera: 3.1 MP, 2064 x 1544, Color model with USB3 interface
MX124CG-SY XIMEA camera: 12.4 Mpix, 4112 x 3008, Color model with PCIe interface
GPU desktop as a receiving station
Standard full frame processing pipeline:
8/10/12-bit acquisition
color pre-processing
H.264/H.265 encoding, RTSP streaming
Benchmarks with multi camera setup¶
| | | | |
| --- | --- | --- | --- |
| | First MC031 model | Second MC031 model | MX124 model |
| 8-bit | 60 Fps | 60 Fps | 60 Fps |
| 12-bit | 60 Fps | 60 Fps | 45 Fps |
| Processing latency | 30 ms | 30 ms | 45 ms |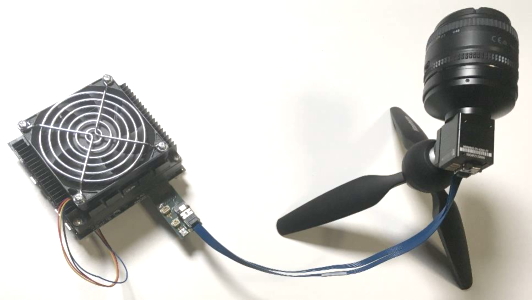 Fig.2. NVIDIA AGX Xavier with Connect Tech Rogue carrier and XIMEA MX089CG-SY-X2GX-FF camera
AGX Xavier with high speed camera¶
Hardware components for second camera model setup:
NVIDIA AGX Xavier with Connect Tech Rogue carrier

FireFly to M.2 adapter to connect the camera

XIMEA MX089CG-SY-X2GX-FF camera: 8.9 MP, 4112 x 2176, Color model with PCIe interface and FireFly connector
GPU desktop as a receiving station
Benchmarks with MX089 camera¶
Full HD, 1920 x 1080, 2.1 MP images (ROI on the camera)
Working frame rate: 60 fps
Image processing time: 12.5 – 13.6 ms (pp. 3-10 from processing pipeline)
Memory utilization: 10.6% of 32 GB
GPU utilization: 10-20%
CPU utilization: ~10%
Encoding bitrate: 9800 Kbps
G2G latency: 50-70 ms
4K UHD, 3840 x 2160, 8.3 MP images (ROI on the camera)
Working frame rate: 60 fps
Image processing time: 25.5 – 27.5 ms (pp. 3-10 from processing pipeline)
Memory utilization: 12.5% of 32 GB
GPU utilization: 30-60%
CPU utilization: 15-20%
Encoding bitrate: 9800 Kbps
G2G latency: 70-90 ms
AGX Xavier Acquisition Module for MIPI cameras¶
NVIDIA Jetson AGX Xavier Developer Kit with NVIDIA Jetson AGX Xavier Module 32GB
4x 5664x 4248, 24MP monochrome MIPI image sensors
Processing:
4x sensor acquisition at 30 FPS
Render on a screen of images from one image sensor at 30 FPS