XIMEA Windows Software Package¶

XIMEA Windows Software Package is installer, that can be run on:
Microsoft Windows 7,
Microsoft Windows Embedded Standard 2009,
Microsoft Windows 2008 R2.
Package contains¶
OS Drivers of all XIMEA camera types for OS Windows 7 32/64 bit, Windows 2008 R2 x86-64.
Examples (xiViewer - camera live image viewer for picture check)
Utilities
GenTL Producer - for connecting of GenTL Consumer applications.
Vision Libraries integration demonstrations:

LabView demo with sources
OpenCV demo with sources
Libdmtx demo with sources
Aforge.NET framework demo with sources
Integrating Vision Toolkit demo with sources
Halcon demo with sources
Cognex demo with sources
Matrox MIL demo with sources
Voyant Vision demo with sources
Installation Guidelines¶
1) Be sure that You have Administrator privileges
2) Download
3) Click right mouse button on the downloaded file and use "Run as administrator"



4) Read the License Agreement and Accept it.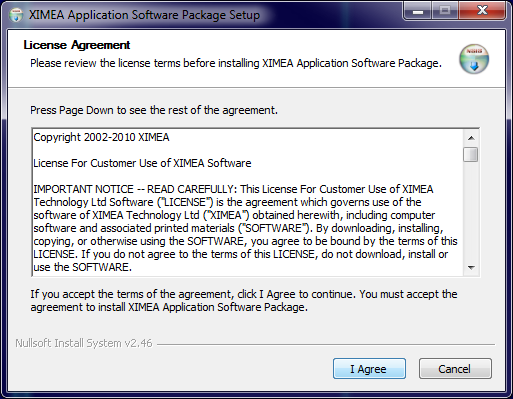 5) Select the Software components you want to install. You can uncheck the components you don't want to install, but it is recommended to leave them all checked.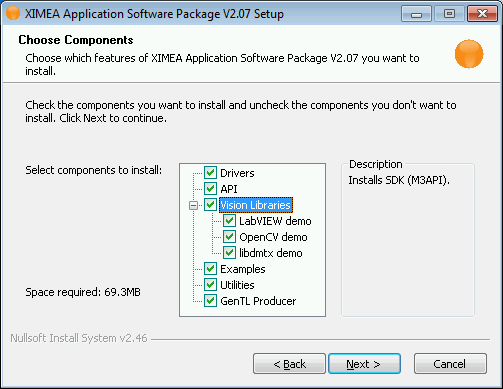 6) Specify the install location - you can leave the default location or change it to your desired location.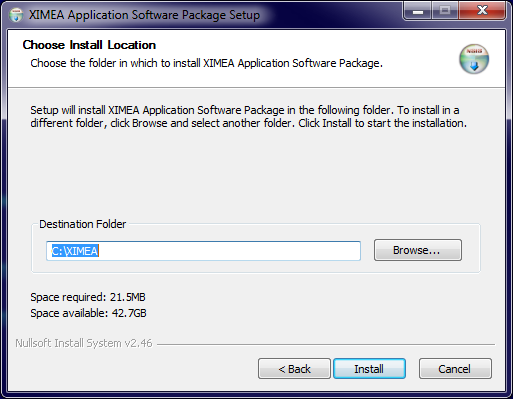 7) Now the XIMEA Windows Software Package should start copying files, updating System Variables and installing drivers if necessary.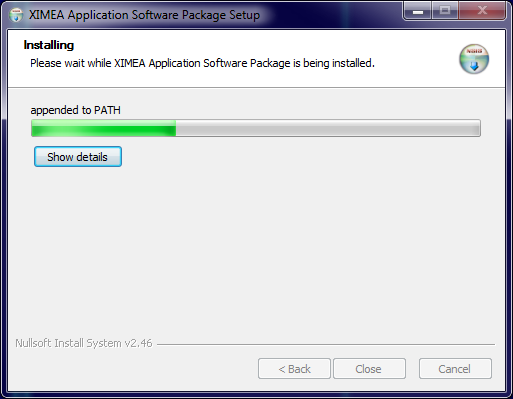 8) Installation is completed.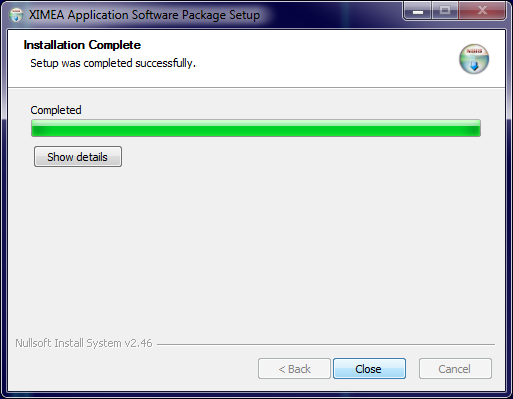 9) Changes to System Environment Variables may require system reboot. If you want to reboot immediately select 'Reboot Now' option, otherwise select 'I want to manually reboot later'.
Note: When used for CURRERA R choose 'I want to manually reboot later' and use SSD Control Tool to store changes when EWF is enabled.
Beta versions¶
The latest changes are released as Beta Versions.
These version of XIMEA Windows Software Package with changes description are stored here.
It is also possible to download directly using this Short link
Linux version¶
We also have similar Linux Software Package
Notes¶
Unattended Installation¶
It is possible to install the package with Unattended Installation XIMEA API Installer
Borland C++ builder¶
The xiapi .lib file requires conversion from Visual C++ to C++Builder. Conversion can be done by using IMPLIB - a tool which generates a C++ Builder compatible xiapi .lib from xiapi .dll to Borland C++. More information on how to convert the library can be found on this page. The tool can be downloaded here. Usage: IMPLIB -a xiapi32.lib xiapi32.dll.
Unpacking installation source files¶
It is possible to Unpack XIMEA API Software Package installation files to current directory to make own installer based on these files.
Legacy¶
For Your reference - legacy versions of Windows Software Package are stored here .
Here is History of versions .


Note: Product names used in this web site are for identification purposes only and may be trademarks of their respective companies.
All logos and trademarks are the property of the respective trademark owners. All other rights reserved.