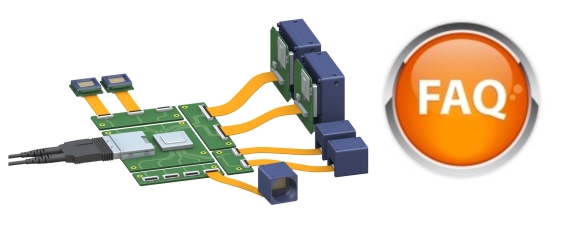 FAQ¶
1. Which XIMEA cameras are suitable for either Embedded vision or MCS?¶
There are several camera lines offered by XIMEA that are fit for use in such Multi camera systems (MCS) or Embedded vision setups.
The advised camera versions to use would be a combination of xiX line and xPlatform.
2. Can Firefly connector models be connected to PC ?¶
While primarily these camera versions are meant to connect to the xSwitch platform, there is a way how to attach them directly to PC and it is described HERE
3. Does the flex ribbon or Firefly cable transfer power ?¶
Yes, flexible flat ribbon cables (FFC) and some Firefly cables do transfer the power and synchronization/triggering signals up until the adapter board where a standard GPIO is located.
This is the reason why most xiX models do not have a GPIO interface on the backside of the camera, except Firefly which look like THIS.
4. What are the suitable combinations you propose for Multi camera interconnection with PC?¶
There are simple commercial setup options allowing to Embedded single or few XIMEA USB3 (or USB 2.0) cameras with a mini PC as well as more professional and complex ways to multiplex a high number of cameras with compact industrial PC platforms. Below are just several examples which were suggested in various situations:

Imago VisionBox:
AGE-X (tested: AGE-X10: 4 x USB3.0, Z77, USB3.0 interfaces share 5 GBit / s bandwidth)
Multi camera setup with 4x USB3 cameras (tested: AGE-X Tiger+)
Multi camera setup with 12x USB3 cameras (tested: AGE-X Serval+)
Pokini i / i2 (tested: 4 x MQ013xG-E2 at 60 fps)
Intel NUC