Firmware Updates¶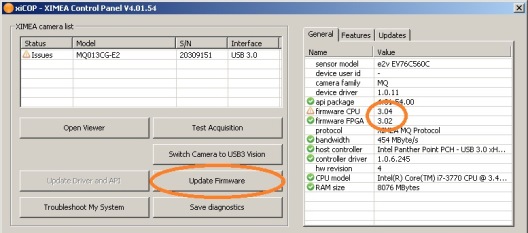 Due to the different requirements of various sensors, there are currently multiple ways to update firmware based on different camera families or even different camera models within the same family.
The long term plan is to consolidate the process for all cameras in the future, but for now, please follow the below instructions for updating the firmware in particular cases.
The firmware for all of these cameras is updated using our Control panel software (xiCOP), which comes with the API download.
It checks for the availability of the newest firmware version via the internet and if a newer firmware than the one installed is available, the "Update Firmware" button is enabled - Clicking this button starts the camera firmware update process.
If you cannot use xiCOP (e.g., you need to automate the upgrade for multiple cameras, downgrade, are running on an operating system that does not support xiCOP, need to avoid interactivity, etc.), please consider the use of an alternative updater - XIMEA Camera Firmware Command-Line Update.

xiD - After the update of firmware the cameras need to be reset in order to load the new firmware. Please, disconnect and connect the camera again.
A manual Firmware update is not required for our Subminiature cameras.
The firmware is automatically updated when the camera is started by the API and the computer has an internet connection.
There are several types of these high end cameras, with model numbers starting with MR and MH, including also the xiRAY line.
There is currently no customer tool available to update the firmware. Firmware can only be updated by XIMEA service.
To update the firmware in the sensor controller, use the CURRERA-R Stream Firmware Updater