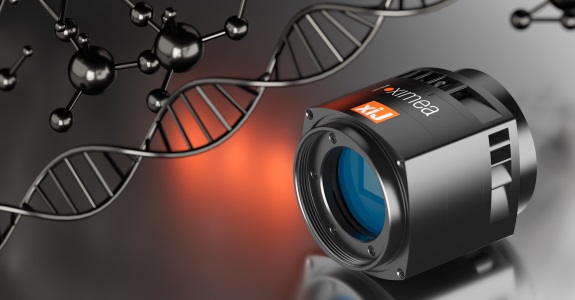 Introduction¶
Cameras with the newest Scientific CMOS (sCMOS) sensors from Gpixel (GSENSE400, GSENSE2020, GSENSE5130, GSENSE6060) including their Backside illuminated versions come in two combinations.

First is a fusion of the highly sensitive sensors with USB3 interface and Thermoelectric Cooling using Peltier - ideal for decreasing the already very low noise level.
The second is utilizing the fast PCIe interface to take full advantage of the high speed potential and Global shutter feature while keeping remarkable Dynamic range and large Full Well Capacity.

Thus, the cameras are designed with consideration for both the Scientific applications requiring long exposures, as well as, industrial systems focused on supreme image quality and minimal motion blur.
Documents¶
Brochure

3D STEP - MJ models
3D STEP - CB models
3D STEP - MX042xR-GP-BSI model
3D STEP - MX377 models
3D STEP - MJ042MR-GP-P11-BSI camera with GSENSE400 BSI Pulsar

2D Mechanical drawing - MJ models, MJ042MR-GP-P6, MJ042MR-GP-P11, MJ150MR-GP
2D Mechanical drawing - MJ042MR-GP-P11-BSI camera with GSENSE400 BSI Pulsar
2D Mechanical drawing - CB models
2D Mechanical drawing - MX042xR-GP-BSI model
2D Mechanical drawing - MX377 models, Water Cooled, Air Fan Cooled
Quantum efficiency graphs:
GSENSE400 / BSI / Pulsar
GSENSE2020 / BSI
GSENSE5130 / Color
GSENSE6060 / BSI
Knowledge base¶
Frame rate calculator - for sCMOS cameras
sCMOS camera models - Specification tables
sCMOS cameras - Cooling performance
Gpixel GSENSE6060 Grades
Gpixel GSENSE400 BSI Pulsar - Grades
Chiller for Water cooling - Example
HDR - ADC Bit readout explained
CCD, CMOS or sCMOS
PIV - Particle Image Velocimetry
Lens mount options
USB3 Zone
Hardware¶
MJ models¶
Tripod bracket for MJ models - MJ models mechanical 2D drawing
Trigger cable for MJ models - CBL-MJ-SYNC-3M0
Power injector for MJ models + mechanical 2D drawing - with power delivery (PD) to supply the energy for Peltier Cooling
Power cable for MJ models - CBL-MJ-PWR-2M0
Lens mount rings - C-mount, M42, T-mount
Long distance connection options

MX377 models¶
Tripod bracket for MX377 models - MX377 models mechanical 2D drawing
Power cable for MX377 models - CBL-MX377-PWR-3M0 wiring diagram
Trigger cable for MX377 models - CBL-MX377-SYNC-3M0 wiring diagram
Power supply - power cable is sold separately
Fiber optic MTP cable - CBL-MTP-X4G3-FF-xxM0
Fiber optic MTP host adapter - HA-1P-X4G3-MTP-X8G3
Legacy MH models
Trigger cable - CBL-MH-PWR description
Software¶
xiCOP - control panel software
CamTool- viewer like application
XIMEA API Software Package
XIMEA Linux Software Package
XIMEA macOS Software Package
GPU Software for scientific CMOS cameras
Python
Vision Libraries

Applications¶
Spinning disk confocal imaging, Genomics, High Speed Multicolor and Light Sheet Fluorescence, FRET, FRAP, FISH, TIRF, Cell Biology, Biochip reading, PALM, STORM, dSTORM, GSDIM, SPIM and Widefield Microscopy, Astronomy, Solar polarimetry, Protein/Lipid Trafficking, Voltage Sensitive Dyes, Quantum Dots and Optics, OCT, FCS, Mineralogy, Membrane Dynamics, Ion signaling and Transport Physiology, gene expression analysis, Photovoltaic inspection, gSTED, Digital pathology, Bose-Einstein Condensation, neutron tomography, CARS, Ophthalmology, Electrophysiology, BEC dynamics, Biophysics, Phosphorescence, Corona detection, Biometrics, Photoluminescence Spectroscopy, Endoscopy and Biomedical, Nanoparticle, Intrinsic, Ratiometric, Calcium, Pulsar imaging, Space debris and NEO tracking

If you'll not find an answer to your question - Contact Our Support