CURRERA-R : Machine Vision Smart Camera with PC inside
CURRERA-R: was discontinued
It was decided to support the produced units, but discontinue further development of the current model.
At the moment, as a replacement XIMEA suggests to use USB3 or USB 2.0 camera models in combination with industrial or commercial mini PC. Examples:
Imago VisionBox AGE-X (tested: AGE-X10: 4 x USB3.0, Z77, the USB3.0 interfaces share 5 GBit / s bandwidth)
Pokini i / i2 (tested: 4 x MQ013xG-E2 at 60 fps)
Intel NUC
PRODUCT IS DISCONTINUED - check with This e-mail address is being protected from spambots. You need JavaScript enabled to view it for options.
CURRERA-R: ultra compact, PC based Vision System.
In detail: it is a Machine Vision Camera with integrated standard, INTEL CPU based Personal Computer (PC) in single very compact IP67 class housing. Despite its small size, it is a complete Vision System just like the usual Camera bundled with separate PC or Compact Vision System. You can connect all PC standard peripheries: Display, Keyboard and mouse, external storage, or use it in standalone mode, or via Remote Desktop over the network.

Industry standard - Intel x86 PC inside supported by major operating systems
Compact - IP67 industrial smart camera
Compatibility - runs Windows and Linux, multiple Image Processing Libraries
Economical - excellent value and price, low TCO and fast ROI
Energy saving - low power consumption, supplied via PoE or external supply
Risk free - camera PC integration on both hardware and software levels is system wide optimized and maintained by our engineering and support team
Powerful - all CPU power remains free for Image Processing tasks, no image acquisition overhead
Fast - perfectly matched and tuned Image Acquisition data path running at 2.5Gbits internal PCIe bus with transparent DMA transfer
Connectivity - extensive range of interfaces: Gigabit Ethernet, USB, VGA, RS232, fast and isolated Digital Inputs and Outputs
Easy Support - single point of support for the camera, PC and Vision Library integration
Software interface - GenICam / GenTL and highly optimized xiAPI SDK
Simple deployment - all functionality of complete Vision System delivered in single OS image file deployable within minutes
Machine Vision Applications and advantages of CURRERA-R
Inspection smart camera for a variety of industrial applications in production, factory automation and visual quality control.
Combines high speed camera with the processing power of embedded PC in single compact IP67 class protected enclosure.
The process of visual inspection is fully automated thanks to power Intel Atom processor and support for a vast number of image processing libraries.
CURRERA-R is versatile IP67 industrial x86 smart camera which replaces regular camera coupled with industrial PC or Compact Vision System.
Electronics: fiducial marks recognition, assembly verification, component placement, detection of position, orientation, presence or absence of parts, inspection of solder paste, post reflow, solder joints etc.
Packaging: 3D profile measurement, bar code reading, Optical character recognition (OCR), inspection of glass and plastic bottles, filling level, cup presence and status, box folding and content, bag seal etc.
Food Industry: inspection of fluid level, 3D profile and volume, plastic weld, weld cleanness, package completeness and content, lid position detection and many others.
Pharmaceutical Industry - labels inspection, OCR, Bar code reading, completeness and color inspection
Printing Industry - automatic registration, quality control, density measurement
General Machine Vision - Presence, Completeness, Orientation, Location, Position
Non-contact measurements and alignment in 2D and 3D
Automated machine visual inspection and quality control systems
Robot guidance and positioning in 3D, object and pattern detection, object type, position and orientation recognition
Security Applications of CURRERA-R
Unattended surveillance
Autonomous Security and surveillance systems
Iris recognition
Security Video analytics, motion detection, presence detection, human detection and tracking
Salient events detection
Face recognition and face tracking, Eye/gaze tracking
Traffic Applications of CURRERA-R
Offense detection
Red light violation detection
Speeding offense documentation
Speeding detection for second evidence proof
License plate recognition (LPR), Automatic number plate recognition (ANPR)
Traffic flow detection
Other fields of applications of CURRERA-R
General Biometrics
Logistics
Ophthalmology, Medical devices
Mining - Coal, Diamonds
CURRERA-R Black and White and Color Sensors models:

All models HERE
| Model: | Resolution: | Size: | Frame rate(1): | Sensor: | Shutter: | BW/Color: | CPU: | RAM: | SSD Storage: |
| --- | --- | --- | --- | --- | --- | --- | --- | --- | --- |
| RL04 | 752x480 | 1/3" | 60fps | MT9V034C12STM | Global | B/W | Z530 1.6GHz | 1024MB | 3.6GB |
| RL04C | 752x480 | 1/3" | 60fps | MT9V034C12STC | Global | Color | Z530 1.6GHz | 1024MB | 3.6GB |
| RL13 | 1280x1024 | 1/1.8" | 60fps | EV76C560ABT | Global | B/W | Z530 1.6GHz | 1024MB | 3.6GB |
| RL13C | 1280x1024 | 1/1.8" | 60fps | EV76C560ACT | Global | Color | Z530 1.6GHz | 1024MB | 3.6GB |
| RL50 | 2592x1944 | 1/2.5" | 15fps | MT9P031I12STM | Rolling | B/W | Z530 1.6GHz | 1024MB | 3.6GB |
| RL50C | 2592x1944 | 1/2.5" | 15fps | MT9P031I12STC | Rolling | Color | Z530 1.6GHz | 1024MB | 3.6GB |
(1) Maximum frame rates measured at 8 bits per pixel raw in free run mode (without processing)
Hardware:
Processor / CPU - INTEL Atom x86 Z530 1.6GHz
System memory - 533MHz DDR2 1GB
Storage - SSD Solid State Disk 3.6GB, Micro SD Card Slot
Image Sensors - from WVGA to 5Mpix, Global Shutter (GS) and Global Reset Release (GRR)
Cables - ready for use in several lengths: VGA, Gigabit Ethernet, System
Breakout boxes - providing expansion and convenient connectivity for USB, RS232, Digital Isolated Inputs and Outputs, LED Illuminator current source
Supported operating systems:

WES7 Windows Embedded Standard 7
WES 2009 Windows Embedded Standard 2009
Linux



| | |
| --- | --- |
| Supported More than 30 Vision Libraries: | All logos and trademarks are the property of the respective trademark owners. All other rights reserved. |
PDF Brochures and documentation.
Want to know more about our CURRERA-R machine vision cameras?
This e-mail address is being protected from spambots. You need JavaScript enabled to view it
This e-mail address is being protected from spambots. You need JavaScript enabled to view it
Join the XSP program: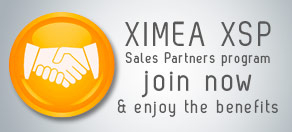 Look through the Catalogue