Industrial Camera Guide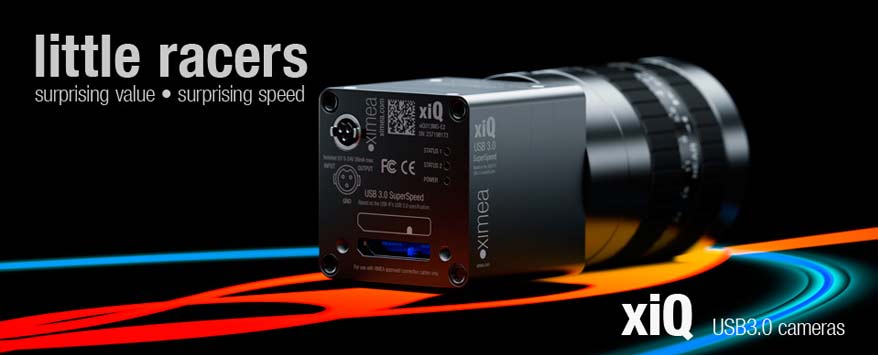 XIMEA's camera families include:
USB3 Vision
cameras, PCI Express high speed cameras, Thunderbolt™ enabled cameras, Scientific grade cameras with USB 3.0 or Firewire, USB 2.0 subminiature and even USB 3.1 cameras. With flat ribbon flex cable option - these are ideal for Embedded vision systems.
| | | |
| --- | --- | --- |
| XIMEA's USB3 Vision line is called xiQ and includes extra fast models from VGA to 4 Mpix with speeds up to 1000 fps. Cameras are incredibly small 26x26x21mm and can consume under 1 Watt. | Board level version of USB 3.0 SuperSpeed cameras is ideal for OEM applications, providing a single planar board with 25x25 mm size and further options of angled connectors or other customization. | Originating from Scientific field, these high end USB3 cameras based on newest Sony sensors with EXview HAD CCD II offer resolutions from 2.8 to 12 MPix with the fastest multi-tap readout. |
| New line of USB3.1 cameras with Sony CMOS sensors is called xiC and contains models with 2.3 up to 12.4 Mpix resolution that use Pregius™ technology, which offers impressive sensitivity in low light and high Dynamic range. | The xiSpec line of Hyperspectral Imaging (HSI) cameras is equipped with compact sensors from IMEC. With its form factor, it is smallest and lightest in class, which together with low power consumption makes it ideal for UAV use. | If any of these camera lines are suitable, but lack some element - there is always an option to check XIMEA's customization abilities presented in a form of the xiX line, where the design allows it to easily switch sensors or connectors. |
WHAT makes xiQ line EXCEPTIONAL:
Smallest USB3 Vision camera - 26x26x21 mm
Lightest and extremely robust housing with under 30 grams
Lowest power consumption with under 1 Watt
Fastest USB3 Vision camera with models providing 800+ fps at VGA
Lowest heat dissipation
First to provide board level versions with single planar board and various connection options
The most supported with Windows, Linux, ARM, macOS and 30 Vision Libraries
Widest interoperability of Accessories and overall vendors support
Unmatched OEM customization options including adjustment of the interface, enclosure etc.
User-friendly with simple API control, easy switch from C to CS mount etc.
World's first functional industrial

Thunderbolt™

enabled cameras in small housing and support

of Windows, Linux, macOS and 30 Libraries.

NO Frame Grabbers needed. At the moment this is a xiLab product

.

MT023 model integrates Sony IMX174 featuring Pregius™ technology.

With the help of 10Gbit/s throughput this camera is capable to deliver full sensor resolution of 2.3Mpix at 12bit/pix 128fps, or 10bit/pix @165fps. Camera measures only 26x26x38mm and can be bus powered removing the necessity of power cables adding the Daisy chain ability.

MT200 model is based on the very popular CMOSIS CMV20000 sensor.

Full resolution of 20 Mpix can be utilized at 30 frames per second in the 12 bit mode thanks to 20Gbit/s bandwidth. Camera is enhanced with the active EF-mount interface for control of dynamic aperture and focus. Use of dual-port Thunderbolt™ enables daisy chain interconnection.

What is xiLab?

Anything displayed with the reference "xiLab" or in our xiLab space refers to technologies and prototypes that are developed and functional, but where XIMEA does not commit on release, time lines or final appearance.

We are keen to learn markets reaction to items displayed or exposed under this label.

"Thunderbolt and the Thunderbolt logo are trademarks of Intel Corporation in the U.S. and/or other countries".

World's smallest Hyperspectral camera with size and weight of mere: 26 x 26 x 31 mm, 31 grams.
Available with 2 sensors types from IMEC - Linescan and Snapshot Mosaic have various Wavelengths and amount of bands/channels.
Snapshot Mosaic cameras

4 × 4 or 5 × 5 mosaic patterns are repeated continuously on the sensor surface:

4 × 4 filter array, 16 HSI bands between 470-630 nm (MQ022HG-IM-SM4X4-VIS)

5 × 5 filter array, 25 HSI bands between 600-975 nm (MQ022HG-IM-SM5X5-NIR)

The spatial resolution is approx. 512 × 272 pixels (4 × 4) or 409 × 217 pixels (5 × 5).

The original sensor resolution can be interpolated.

Linescan cameras

The different hyperspectral bands are realized vertically.

100+ bands between 600 and 975 nm in 4 nm steps, each with a size of 2048 × 8 pixels (MQ022HG-IM-LS100-NIR)

150+ bands between 470 and 900 nm in 3 nm steps, each with a size of 2048 × 5 pixels (MQ022HG-IM-LS150-VISNIR)




Using this camera requires a synchronized camera / object movement and image acquisition.
Applications: Precision Agriculture, Remote Sensing, Environmental Monitoring and protection, Archeology, Art Science, Food inspection, Medical Imaging, Microscopy and Endoscopy, Mineralogy, Life science instrumentation, Optical sorting, UAV and many others.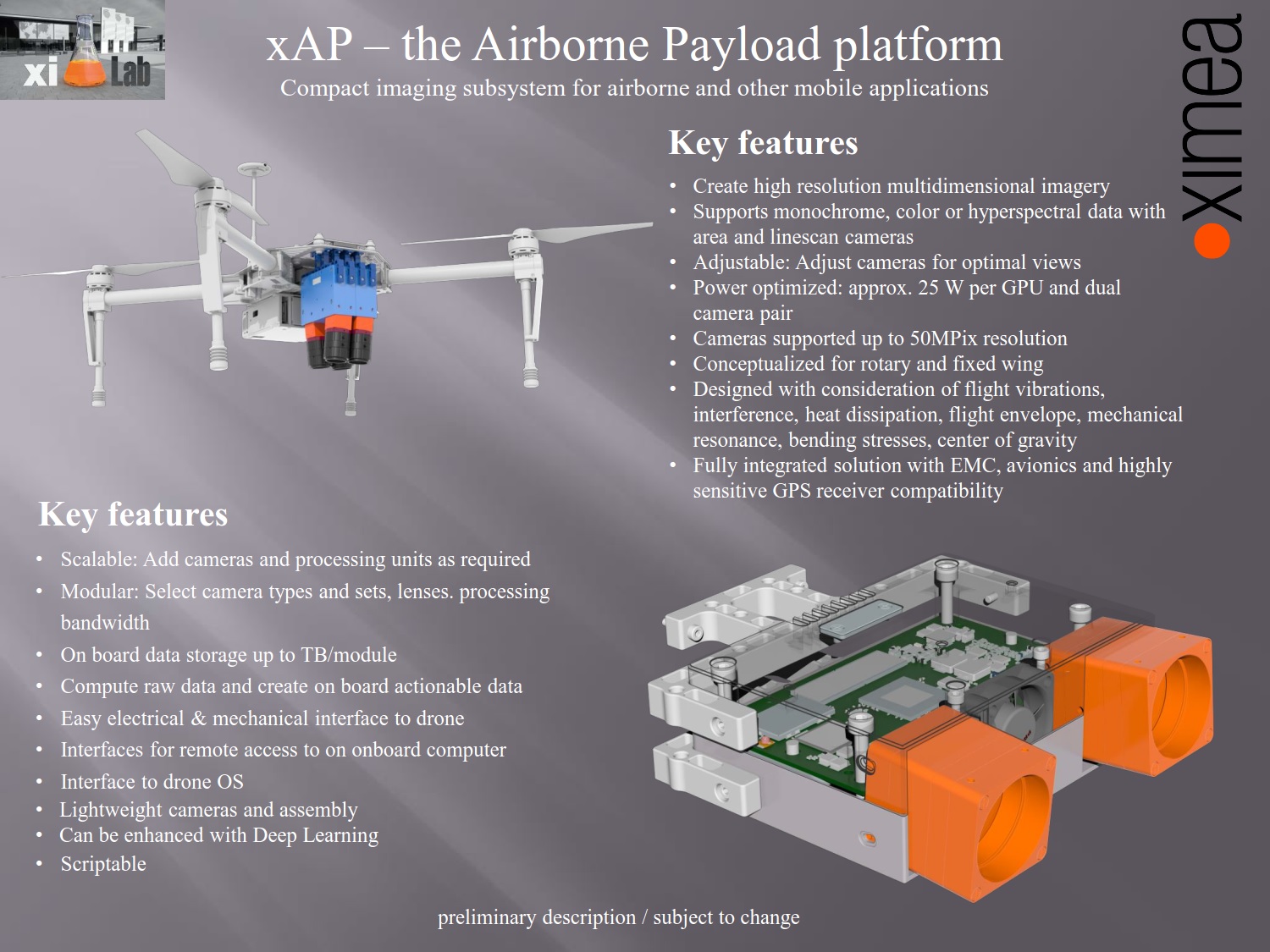 VISION 2014 Video Presentation VISION 2014 Presentation
English videos:
Miniaturized hyperspectral imaging camera modules
Miniature Hyperspectral imaging camera for material analysis
Use of hyperspectral cameras based on CMOS area scan sensors
Miniaturized Hyperspectral Imaging Cameras Usage, Data preparation and Application fields
Mobile smart hyperspectral cameras
German videos:
High resolution USB2.0 and USB3.0 micro cameras for industrial quality control
Hyperspectral imaging data correction and standardization, mobile applications
Image acquiring and processing for area scan hyperspectral cameras with high resolution
Miniaturized hyperspectral imaging cameras
This e-mail address is being protected from spambots. You need JavaScript enabled to view it
CMOSIS CMV120000 and CMV20000 and CMV50000 sensors able to achieve incredible speed with the help of 20 GBit/sec interface throughput (PCIe x4 Gen2) and astonishing 64 Gbit/sec with PCIe x8 Gen3.
Gen2 allows - 12 Mpix at 133 Fps, 20 Mpix at 33 Fps and 50 Mpix at 30 Fps.
Gen3 allows - 12 Mpix at 333 Fps and other sensors for example with 1.1 Mpix at 3500+ Fps.
Compact 60 x 60 x 38 mm housing (175 grams) compatible with active Canon EF-mount and interface that is able to control aperture and focus.
With distances reach of 300m via fiber optics cable and power consumption of 6 Watt.
No Frame grabber needed.
Offers DMA (Direct Memory Access) which helps with extremely low latency.
Other benefits: Daisy chain, lower latencies, periscopic design, special algorithms removing strong FPN, precision adjustment of the sensor, GPU compression possibility
Applications examples include: Flat panel inspection, printed circuit board (PCB) examination, persistent stadium and border security, wide area surveillance, 360 panorama, cinematography, motion capture and aerial or city mapping
Extra small industrial camera line comes in miniature 15 x 15 x 9 mm housing and is also available in micro 13 x 13 x 3 mm board level version.
Offering popular and time proven Aptina MT9P031 sensor with 5 MPix resolution and supporting GenTL / GenICam.
Running on Windows, Linux, macOS or ARM platforms, these compact cameras are ideal for integration into tight spaces.
Perfectly suitable for Synchronizing several units into one solution or utilization in portable systems. ROI (region of interest) and binning increases speed.
With their low power consumption (under 0.9 Watt) and flat ribbon flex cable, they are ideal for Embedded vision systems and applications like:
3D scanning, Robotics, Material and Life science Microscopy, Ophthalmology and Retinal imaging, Medical, Dental, Flat panel inspection, UAV, Kiosks and more
These scientific-grade camera lines come in various resolutions starting at 1.4 to 29 Megapixels. All cameras are equipped with high-quality CCD sensors and USB3 Vision or FireWire interface to eliminate the need for a frame grabber. Optional Peltier cooling for low-light microscopy and related applications is also available.
| | | |
| --- | --- | --- |
| Scientific grade cooled cameras with resolutions from 1.4 to 16 MP are based on high end CCD sensors. Peltier thermoelectric cooling and FireWire interface. | Scientific class of USB3 cameras with resolutions from 2 to 29 MPix, based on Sony EXview HAD CCD II, KAI-04070, KAI-08052 and TEC Peltier thermoelectric cooling. | X-Ray direct phosphor imaging cameras include resolutions of 8, 11 and 16 Megapixel with 14 bit images. Ultra low readout noise and enhanced sensitivity. Uniquely small. |
Specialties of XIMEA Scientific grade cameras are:
High dynamic range – e.g. CCD sensor with 70 dB and 14 bit output
Linearity below 1% and highest uniformity
Special anti-blooming functionality
Anti noise functionality
Real color truth due to high end unique debayering solutions
Changing of all settings with zero switching time: e.g for ophthalmologists we can provide 5 Mpix with 25 fps feature
High quality filters
Economical power consumption
Fastest speeds - using all available readout capability
Peltier Cooling (TEC)
Sony
Kodak / Truesense / ON Semiconductor

ICX252 AQ

ICX282 AQ

ICX285 AQ / AL

ICX655 AQ / AL

ICX674 AQ / AL

ICX694 AQ / AL

ICX814 AQ / AL

ICX834 AQ / AL

KAI-4021

KAI-4022

KAI-4070

KAI-8052

KAI-11002

KAI-16000

KAI-29050
XIMEA's high-end cameras are designed for a variety of life and material science applications, including Ophthalmology, Pathology, Histology, H & E Staining, Immuno - Fluorescence, Bright-field, Phase-Contrast & Darkfield microscopy, Metallurgical Microscopy (Metallography, Mineralogy, Petrography), Cytology, Green Fluorescent Protein (GFP) applications, In vivo bioluminescence (Biofilm imaging), DNA and Forensic Analysis, FISH, CA++ Ratio and more. Also use in industrial fields like Flat panel and semiconductor inspection, Manufacturing Quality Control and Failure Analysis, Motility and Motion analysis and Solar panel inspection.
What is xiLab?
Anything displayed with the reference "xiLab" or in our xiLab space refers to technologies and prototypes that are developed and functional, but where XIMEA does not commit on release, time lines or final appearance.
We are keen to learn the market's reaction to items displayed or exposed under this label.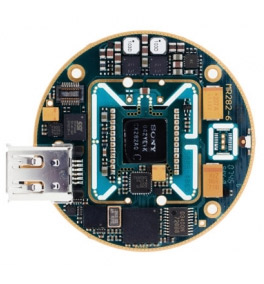 XIMEA cameras tend to have a single planar board and include straight or angled USB 3.1, USB 3.0, USB 2.0, Firewire, PCI Express or Thunderbolt™ connectors. Span of resolutions starts at VGA and goes up to 50 Mpix, color, monochrome, NIR and Hyperspectral versions, perfect for OEMs and system designers.
XIMEA's line of Custom OEM cameras can be tailored to your tight
space requirements or
specific needs. Exceptionally suitable for Embedded vision systems.
Choose from many different interface options like: PCIe, USB3 Vision, IEEE 1394, Thunderbolt™ or USB 2.0.
Decide whether you need a housed version or board level, Peltier cooled or NIR models, even if you require straight or angled connectors.
We can adjust to your special demands. To inquire about options please click
HERE
XIMEA's wide array of industrial, scientific-grade, specialty and OEM cameras come both with CCD and CMOS or sCMOS sensors. Even in HSI and X-RAY form.
Time proven or completely new, they stem from various manufacturers like: Sony, CMOSIS, e2V, Imec, Aptina, Truesense, Gpixel or ON Semiconductor.
| | |
| --- | --- |
| XIMEA's cameras with charge coupled device (CCD) sensors from Sony or Truesense (Kodak, now OnSemi) offer resolutions up to 29 Mpix and come in color or grayscale configurations with highest scientific grade image quality at real-time frame rates | XIMEA's CMOS based cameras come with newest high-quality Global Shutter sensors from many different vendors like Sony, CMOSIS, e2V, Onsemi or Aptina. Extensive range of products includes resolutions from VGA up to 50 Mpix in color, greyscale or Near Infrared (NIR) |
Delivering crystal clear images in color, monochrome or Infrared enhanced:
CMV300, PYTHON 1300, EV76C560, EV76C661, ICX285, EV76C570, CMV2000, IMX174, ICX674, IMX252, ICX252, KAI-4021, KAI-4022, KAI-04070, CMV4000,
ICX282, MT9P031, ICX655, IMX250, ICX694, KAI-08052, IMX255, ICX814, IMX253, KAI-11002, ICX834, CMV12000, KAI-16000, CMV20000, CMV50000 ..